Archived news 2022
Funeral Chasm - Omniversal 2LP
Last updated: 27 December 2022
Finally released is the wonderful "Omniversal Existence" 2LP.
Vinyls are here and looking great - gatefold, heavy vinyl, printed inner sheet
All pre-orders are being prepared to leave after the New Year holidays.
Thanks to everyone for being so patient with this release. Enjoy!!!
Estrangement - release music video
Last updated: 29 November 2022
Check out this excellent, yet intense, music video for the track "Clusters" - a snapshot from their exhilirating new album.
As JS describes....
"Clusters" is a contemporary classical music arrangement for strings, flute and screaming human voice. Featuring occasional elements of funeral doom and black metal music, "Clusters" howls with petrifying dread and makes for a confronting sensory experience. The sequence of images was inspired by a common children's nightmare: running to the point of collapse from a constantly approaching unknown, invisible and invincible force. There will be blood...
Epitaphe - II - vinyl
Last updated: 16 November 2022
Pleased to announce that the wonderful EPITAPHE album - "II" - now has a vinyl edition at production.
The bad news is that I don't anticipate this being available until the latter part of 2023.
Beatiful gatefold 2LP obi edition - on two heavyweight vinyl colours - includes an LP booklet. It should be worth the wait,
Estrangement - preview track
Last updated: 9 November 2022
A track from the upcoming ESTRANGEMENT "Disfigurementality" album has had an exclusive premiere over at the great TOILET OV HELL.
Grava - Weight of a God
Last updated: 9 November 2022
A preview track from the GRAVA album has been premiered on the excellent NO CLEAN SINGING webzine - check it out here......
Hivemind - promo clip
Last updated: 9 November 2022
Check out the new promo clip for the new HIVEMIND album .......
Estrangement - Disfigurementality
Last updated: 6 October 2022
The much anticipated and long awaited debut album from Australian extreme doom act – ESTRANGEMENT - is finally upon us!!
It's been many years since I first spoke with JS (Estrangement) and we discussed the possibility of working on his debut album together. Years have been and gone, yet JS kept his word – creating an album of jaw-dropping diversity, atmosphere and doomed majesty.
I'm extremely proud to be putting out "Disfigurementality" – it stands as one of the most refreshing and memorable debut albums the extreme doom scene has witnessed in a long time.
More news to follow in the coming weeks - along with where you will be able to hear exclusive preview tracks of the album.
Release date - 25/11/2022 - for now you can check out the album artwork and more info below.....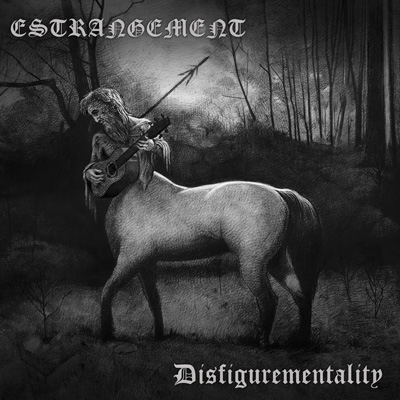 Grava - Weight of a God
Last updated: 6 October 2022
Songs seen through the eyes of the dying
Grava are an exciting prospect – the unblinkered potential and vision of a new band, combined with the qualities that come with experience and knowledge.
Hailing from Copenhagen, Grava are a bludgeoning force. They are, at their core, an underground, raw and unrefined sludge band, yet complement that with the undertones and attitude of a hardcore mentality. Bringing together an album of aggressive energy and angst.
Sludge heaviness, hardcore intensity - bleak desperation
However, this is not just an aggravated assault - there is depth and passion to their music. Give this an opportunity to sink in and feel at one with their grievance and woe.
Released - 28/11/2022
Catch their gig with Ufomammut (ITA) on 3/11/2022 at Loppen, Coenhagen
cave dweller - invocations
Last updated: 6 October 2022
Obscure introspective music
"Invocations" is the follow up album to the beautiful and well received "Walter Goodman" album.
Cave Dweller moves away from the folk inspired thematic and delves into a set of tracks which have a deeper, darker tone, with more varied instrumentation and droning sounds. It's a perfect progression without losing the Cave Dweller sound and introspective outsider feel.
It's hard to describe Cave Dweller - but if pushed I am reminded in parts of certain periods of Current 93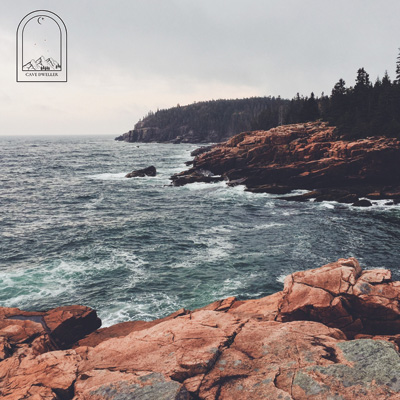 Hivemind - Edict of the Elohim
Last updated: 6 October 2022

Dark electronic music.

A tale of hope - for the annihilation of the mankind filth.

A collaboration between Gordon Bicknell (Lysergene/ex-Esoteric) and Stuart Harris (Sect 37) which sees a spoken word allegory given the texture and imagery of an audio apocalyptic soundtrack by Bicknell.

As if John Cooper Clarke were re-imagining "War of the Worlds" and "Day of the Triffids" to a backdrop of an Orbital/Skinny Puppy hybrid

Those interested in dark electronic music – or those with an open mind should check this. Released 18/11/2022



Recent news.....
Last updated: 6 October 2022
I'm still here –Aesthetic Death lives. Cost of living crisis and worldwide apocalypse does not stop me putting out obscure physical gems for you to discover. Without wishing to compromise our elusive nature – I felt it was time for some Aesthetic Death news...
Firstly, a BIG apology for anyone waiting on my current vinyls in production. You'll be aware of the problems with vinyl production everywhere – however, it seems twice as bad here...
FUNERAL CHASM 2LP has already been in production for 17 months – and I just received news that it won't be ready this year. What a total mess!! Just hope it's out before we're all dead and gone.
ESOTERIC"Death of Ignorance" 2LP should be out by March next year, if those production deadlines aren't missed and extended (again!)
Also, in the pipeline in the coming months are some wonderful releases from SUFFER YOURSELF, MEGALITH LEVITATION, ORD/DEMONOLOGISTS – plus the excellent "II" from EPITAPHE going into vinyl production.
Following this message you'll find info on four excellent and diverse new releases coming out in the next few weeks here – from Estrangement, Cave Dweller, Grava and Hivemind
More items added to the shop here every couple of weeks.
Thanks to anyone buying from me on the Aesthetic Death website or on Discogs – those people still supporting physical media help keep this underground extreme music culture and obscure creativity alive!!
Cave Dweller - new album
Last updated: 14 June 2022
Really pleased to announce that a new album is currently at press from the excellent CAVE DWELLER
More news to follow - but expect a release in early August.
Anyone who found an interest in the previous works by Cave Dweller and/or Pando should be sure to check this album out.....
Hivemind
Last updated: 14 June 2022
Currently at press is an album from UK based act - HIVEMIND "The Edict of the Elohim"
Imagine if Orbital and Skinny Puppy were to join forces, but teamed up with English punk poet John Cooper Clarke - then after debating the merits of HG Wells "War of the Worlds" set about re-working it into something extra special
Dark electro ambient with apocalyptical spoken word vocal - featuring Gordon Bicknell (Lysergene/ ex-Esoteric) and Stuart Harris (Section 37)
Prophetical vision expounding the coming demise of the mankind filth
Funeral Chasm - Omniversal 2LP update
Last updated: 14 June 2022
Release date for the Funeral Chasm 2LP is the end of July 2022 - I am expecting to receive the vinyls in the last week of July.
With current vinyl productions schedules this could still change but I'm hoping the long wait for this vinyl is close to being over.
My apologies to anyone who has been waiting months on this release. I won't be taking pre-orders on vinyl in future.
Thanks for your patience.....
Swords of Dis
Last updated: 12 May 2022
Recently in stock is the self-released CD - "Tides of Malediction" - the debut album from UK act SWORDS OF DIS.
Swords of Dis are creating some excellent dark dissonant doom-filled metal - with their own unique style emerging over recent recording sessions.
Highly recommended is the "Cor Mundum Crea In Me, Sanctum ignis" EP from 2021, which really highlights the development and promise of this band.
Download codes for both the EP and album are below - which can be redeemed at their bandcamp site:
https://swordsofdis.bandcamp.com/music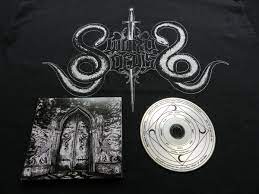 Swords of Dis - download codes
Last updated: 12 May 2022
https://swordsofdis.bandcamp.com/yum
Cor Mundum Crea In Me, Sanctum Ignis

EP 2021

Tides of Malediction:

CD 2013

code
code
27b7-g92j
23b9-7pys
d5xx-39xk
7uhn-yamn
p8qp-hzj8
vlex-7nye
k62p-vh4l
7p6h-vjnu
uylg-geee
m7ns-gypq
xtpy-3ur3
fmdp-3u7t
qz9n-hvx4
mrqg-wqq7
f3tx-j8aa
gvrn-c8g5
wxzj-krub
3bml-x2nf
brut-3j8p
5arj-jdvm
dxwy-h6bn
r9m7-yctg
pejy-vy4j
a3ba-bh3u
rrbn-63jy
jxva-y57r
x9u7-ept9
64gg-ufpl
jywv-3r3z
usun-eq7e
62p8-hll6
ljwm-utpu
zl92-5a5y
qgh6-jnup
zetw-7bbr
f2cu-yemn
y6ne-vx4l
5xpd-77ye
3zd9-g5ee
be9s-vvnu
wtqk-bfr3
5r2c-y8pq
pk8u-xqx4
rmlq-bf7t
r3kd-jtaa
abp9-wmq7
ddyp-k2ub
66mv-eljw
jgee-xkq8
unr6-uets
9u7f-ey62
xav2-e73l
zl5x-br9h
46ga-u5lj
np6j-x46v
43ub-ju5y
w6nr-eat9
qd5m-gp7r
ezda-323z
g469-unpl
tx83-5e5y
3c3u-em7e
tezl-73br
djxv-ugpu
t82j-j44l
p948-j7up
jqqk-v8hj
r3s2-y5mn
7bb2-62qy
76mb-gwyg
mxxd-klkr
vnrm-b42u
nr7b-y63j
6amf-xmsq
wvwl-bklk
n78v-etct
egjj-h9q8
m5n7-ub4b
g2b7-5862
985a-ehjw
txad-b29h
3n78-u5ts
2e9p-xl6v
w553-eu3l
d82b-eet9
s66m-7plj
xwtq-63nb
sn3f-vf5y
qjz9-yxvx
pdvv-ga7r
ff2k-3qgp
7vwj-37ft
ldxt-hzrn
vfp8-cjj7
ejet-vthj
6af2-wy85
bb73-6bqy
n7aw-h3uf
5dww-khkr
m5fq-jsmm
2bbf-yk3j
f8af-ysyg
kx6u-5pay
5nfv-bl2u
kqzd-72rr
g5a7-xjsq
kg2p-vlhl
276a-egct
nklg-gepe
am3r-u34b
lzpy-37b3
88v5-exjw
qt9n-hvl4
j6c9-jfnp
butl-vy5a
73hn-ypvn
wwzj-krnb
vdex-7nte
epy8-g4vx
fq6h-vmuu
rfut-3mgp
mbns-ggeq
dwwy-h6rn
fadp-3uft
kxvw-3b6h
5fqg-cvj7
uqgq-hx9v
g5rn-c885
x8uf-55y9
27ml-xruf
qkwv-3r2z
amrj-jdmm
9np8-h4x6
r8m7-ydyg
zd92-5aay
hu3r-j7ay
yjtw-7brr
jwva-y5fr
ygne-vhhl
6sgg-7uel
3td9-g5pe
n4un-eqfe
py8u-xql4
lewm-u8eu
6jjp-6qyl
e6h6-jnnp
ufbr-yz2j
bncu-yavn
q6ee-x6j8
5wpd-77te
937f-ey92
rj9s-vjuu
zd5l-336h
af2c-gyeq
etda-322z
ralq-bfft
8nqg-hlx6
vv2f-urhb
tw83-5eay
6gmv-elqw
77nz-bv8p
u2r6-uays
xldz-xkbn
lmv2-e72l
jpqk-v84j
4gga-uexj
f7b2-6rjy
cuub-juay
mwxd-klzr
el5m-gpfr
9pee-6myl
gs69-ufel
3f7b-y62j
2h3u-emfe
w5wl-b6xk
dexv-uteu
p6jq-xkj8
p848-j7np
8nb7-5892
vvrp-vcvm
7gmb-gwtg
v2r5-3x3u
9mmf-xqcq
nb8v-etst
5vn7-u2hb
g95a-ehqw
3278-ueys
dv53-eu2l
sg65-u5xj
s23f-vfay
email issue
Last updated: 27 April 2022
I'm now able to receive emails and communicate again.
If you have sent me an email since 21st March, and I haven't responded yet, then please re-send.
Thanks!
Epitaphe reviews.....
Last updated: 15 April 2022
Here are just some of the words written in response thus far to the new EPITAPHE album
Some of these reviewers really know their music...
"If you are going to be making progressive death metal from 2022 onwards, this is one of the monoliths you will be compared with for a long time." - Toilet ov Hell
"A highest possible recommendation is warranted, this is without question one of the most essential extreme metal records of 2022." - Grizzly Butts
Click the links below to read reviews by :
Toilet Ov Hell,
All Around Metal,
Grizzly Butts,
Wonderbox Metal,
Metalitalia.com,
DPRP,
Les éternels,
French Metal,
Mianydoire,
Moshville Times,
Apocalyptic Rites,
Mutante Zine.

Epitaphe - II - now out
Last updated: 15 April 2022
the wonderful new album - "II" - from French progressive death metallers EPITAPHE is now released
All pre-orders are shipped - expect your copy soon. Digibook cd version is now sold out.
Anyone not familiar with this band then I urge you to check them out - one of the most inspired death metal acts of recent years
Epitaphe - premiere track on NCS
Last updated: 14 March 2022
check out the first preview track for the new EPITAPHE album - entitled "Melancholia"
https://www.nocleansinging.com/2022/03/11/an-ncs-premiere-epitaphe-melancholia/
Thanks for No Clean Singing for the review.
Suffer Yourself - Scandinavian tour
Last updated: 17 February 2022
SUFFER YOURSELF prepare to gig across the barren Nordic lands - 10 gigs starting 28th March 2022 - in Sweden, Finland and Norway
Get yourself to one of the gigs if you can.....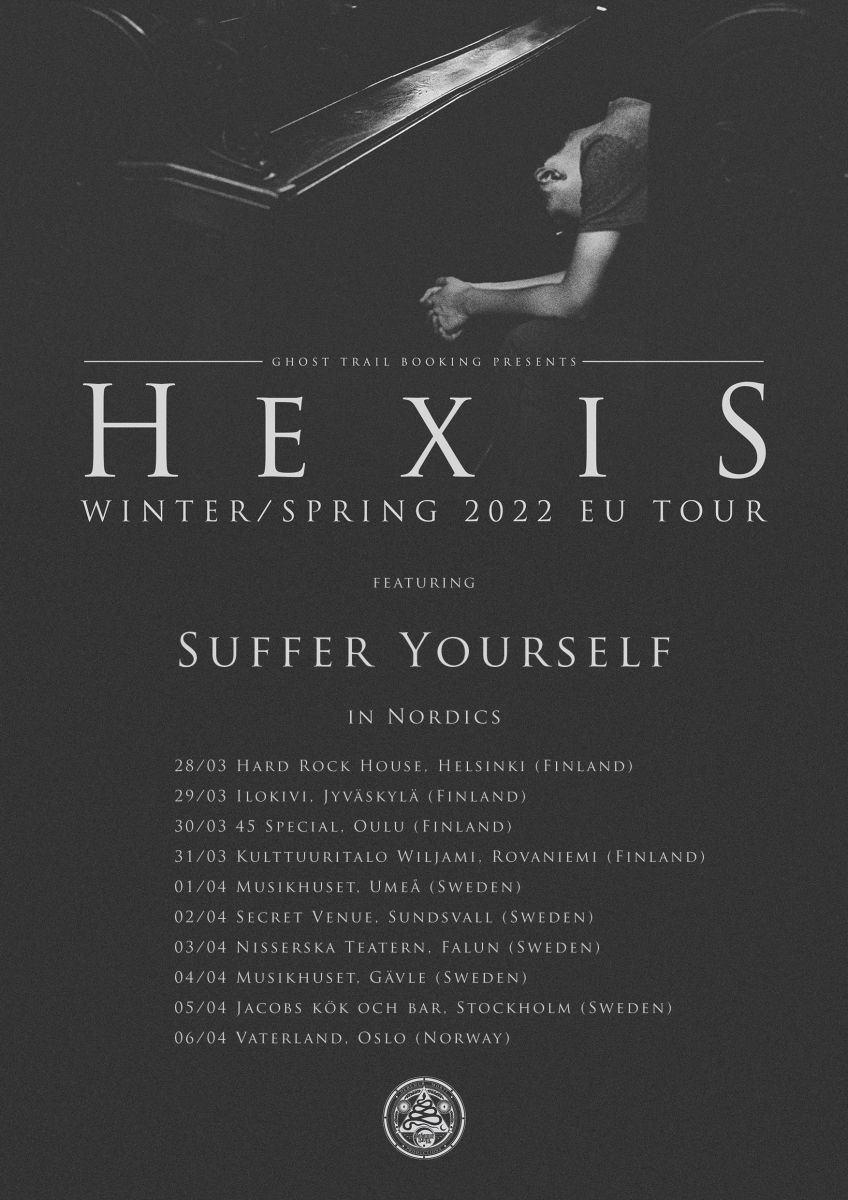 Epitaphe - II - teaser
Last updated: 10 February 2022
Check out the clip for the upcoming Epitaphe album.....
Pre-orders now available - via Aesthetic Death (UK) + Epitaphe (FRA)
Tape edition available on Gurgling Gore (USA)
Release date - 11th April 2022
Vaina - track premiere at Grizzly Butts
Last updated: 10 February 2022
Track from the excellent forthcoming VAINA album - Futue Te Ipsum - given an exclusive preview today at US webzine GRIZZLY BUTTS.
Check it out here....
https://grizzlybutts.com/2022/02/09/an-early-stream-of-i1-from-vainas-futue-te-ipsum-lp-2022-premiere/
Pre order available for CD directly from Aesthetic Death and the Vaina bandcamp - released 4th march 2022
Epitaphe - II
Last updated: 27 January 2022
I am very pleased to announce the forthcoming release of the new EPITAPHE album - "II"
This is a wonderful follow up to their debut. EPITAPHE take us to new realms of their death metal sound.
Released on 11th April 2022 via:
CD digipack / Limited digibook - Aesthetic Death (UK)
Tape - Gurgling Gore (USA)
Vinyl - tba
Barus - Fanges EP - now shipping
Last updated: 27 January 2022
After some unexpected delays with the production of the BARUS EP, I am glad to have the CDs here and shipping.
The digipack has turned out nicely, with the artwork and layout looking particularly striking.
A wonderful EP that displays the progressive and improvised side of the BARUS death metal sound
Look out for the next BARUS full length, for which they will soon start to prepare....
The Slumbering cd - out now....
Last updated: 27 January 2022
Released this week was the excellent debut album from THE SLUMBERING - "Looking for Sorrow Within One's Fear"
As the band themselves describe.....Imagine if you will Old School Power Electronics projects like MZ412 or Brighter Death Now, falling in love with 90's Peaceville or Avantgarde Music Doom bands and Just a touch of Death thrown in for good measure. The Slumbering love to cross the lines of Noise, Melody, Sorrow and Hope all at the same time.
The album is an almagamation of styles - which at first sounds difficult. But, as you immerse yourself into the music it has an ethereal and calming effect.
By the end, the album entices the listener to feel completely at one with the sounds entering your psyche - and when the album ends it is a jolt back into an even uglier reality.
Look out for the 2nd The Slumbering album coming out very soon on Trepanation Recordings....
Barus - Fanges EP
Last updated: 13 January 2022
there has been a slight delay in the production of the BARUS "Fanges" digi CD
Apologies to anyone that is kept waiting for this release. I will make an update here as soon as I have a delivery date - shouldn't be long.
Barus - arriving soon
Last updated: 2 January 2022
We've come to expect delays on all releases these days. In addition the holiday season doesn't help either.
Barus CD is slightly delayed but hope to have the CDs here any day now.
In the meantime, something to give you an idea.....
Vaina - at press
Last updated: 2 January 2022
the "Futue Te Ipsum" album from VAINA is currently at press - and due for release in February.
This is a great album that I've listened to a lot in recent times - it's a black metal heart, but which strays into genres of ambient and ebm weirdness.
Never constrained by the standard parameters and unoriginality of much of black metal today - VAINA have the vision to explore with their creativity
Highly recommended!!!