Aesthetic Death Releases
info
Ketch
The Anthems Of Dread
digi CD
Cat #: ADCD 038
Recorded: 2016
Released: 29th December 2016
Tracks:
Fertile Rites By Sacrifice

8:25

Distant Time

5:52

En Nomine Eius

6:47

The Monsters Of This World

5:41

Estranged

2:19

Detached and Conquered

9:26

Shimmering Lights

9:18

Counting Sunsets

5:53

Chemical Despondency

6:48

13 Coils

6:16
Duration: 66' 50
Notes: includes debut EP. Pressing - 1000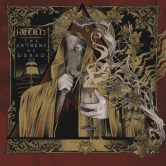 Ketch
The Anthems Of Dread
digi CD
Released: 29th December 2016
What they say
"I'd express a slight preference for the full-length over the EP, but either..."
"In conclusion, "The Anthems Of Dread" is an album that doesn't miss its mai..."
"Musically we have massive doom/sludge metal, with the typical slow tunes, p..."
see more
Great J-K-S wrote:
"Very solid record. At first glance, some great riffs and catchy leads, but didn't seem to be the most original album and so failed to impress. Having become more immersed in it though, it now reveals itself to be much more refined and compelling addition to the genre, which (refreshingly) trades in quality and consistency rather than tricks or gimmicks. The included debut EP is excellent too. Also, the digipack is top quality and looks incredible."
see more
1