Aesthetic Death Releases
info
Wreck Of The Hesperus
Light Rotting Out
A5 digi CD
Cat #: ADCD 018
Recorded: 2009
Released: May 31st 2011
Tracks:
Kill Monument

8.46

Cess Pit People

10.31

Holy Rheum - i) night of negative stars

Holy Rheum - ii) Hologram Law

21.15
Duration: 40 minutes
Notes: limited A5 digipack with 4 cards; features guest vocals from Albert Witchfinder. Pressing - 1500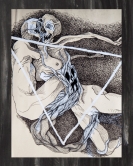 Wreck Of The Hesperus
Light Rotting Out
A5 digi CD
Released: May 31st 2011
What they say
"The album is dry like the desert, unfriendly and ravenous like the sewers, ..."
"Those who can appreciate it will of course be limited, but will be blessed ..."
"The only words I can think of to describe Light Rotting Out is otherworldly..."
see more
Adam wrote:
"Very rottent sounding slow and sludgey album. 3 long songs that clock in at about 40 minutes. Not an easy listen at all but a very rewarding one for those that get it"
see more
Marcel wrote:
"Rotten, darkness, evil
Don't need to say anything more!!!!
Doom from the sewers!!"
see more
2